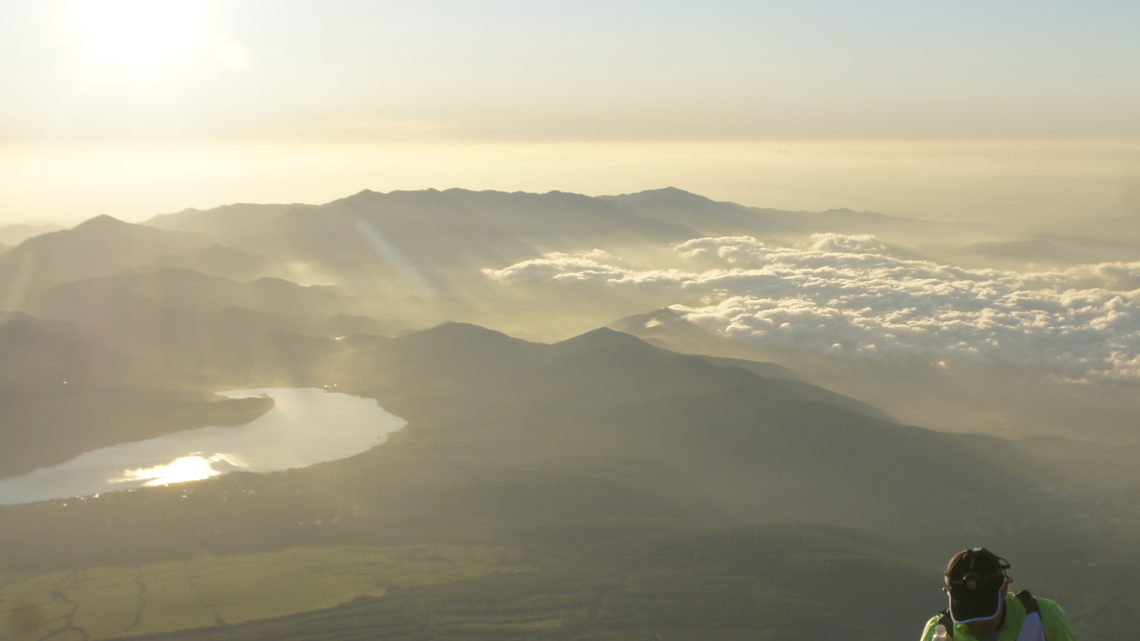 Mount Fuji – 富士山 – Der Weg ist das Ziel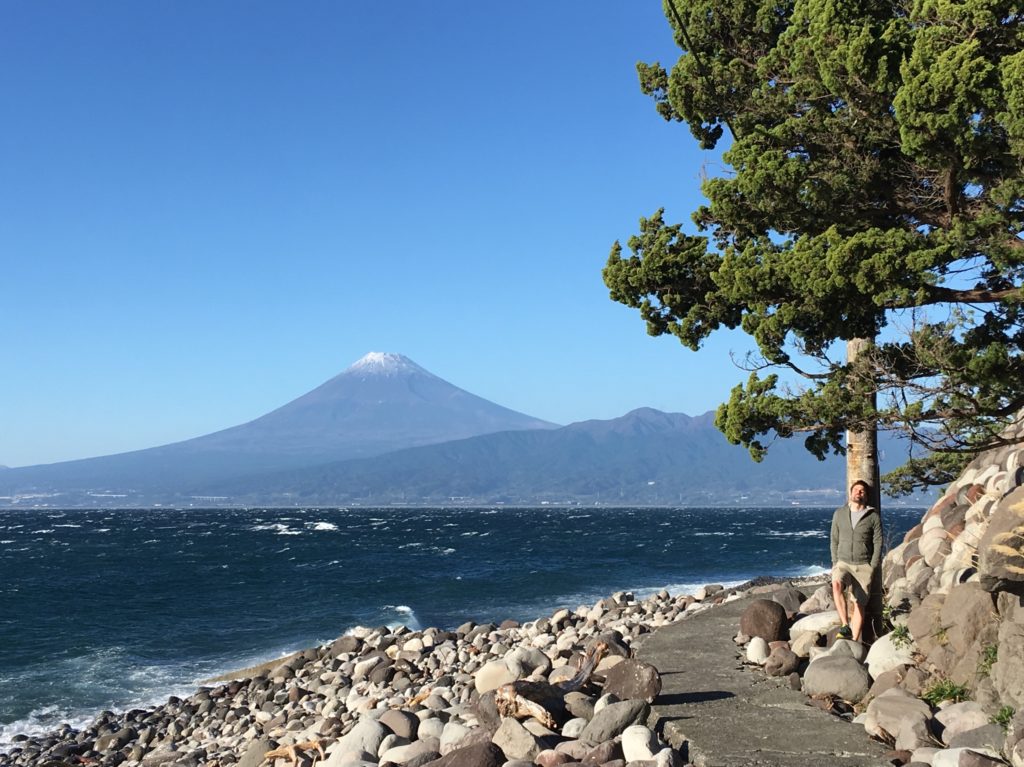 Fuji-san – Japan's holy mountain, a Zen-like sight that might displays a monumental calm and steadiness at the first glance, yet opens up into a diverse flow of beauty, once you have been drawn into its magic. This phaenomenon has been depicted in a surprising variety by countless native and gaijin artist's, the most famous being Hokusai's work of 'Thirty-six views of Mount Fuji' and the beautiful art of nihonga artist Yokohama Taikan's ten mountain scenes.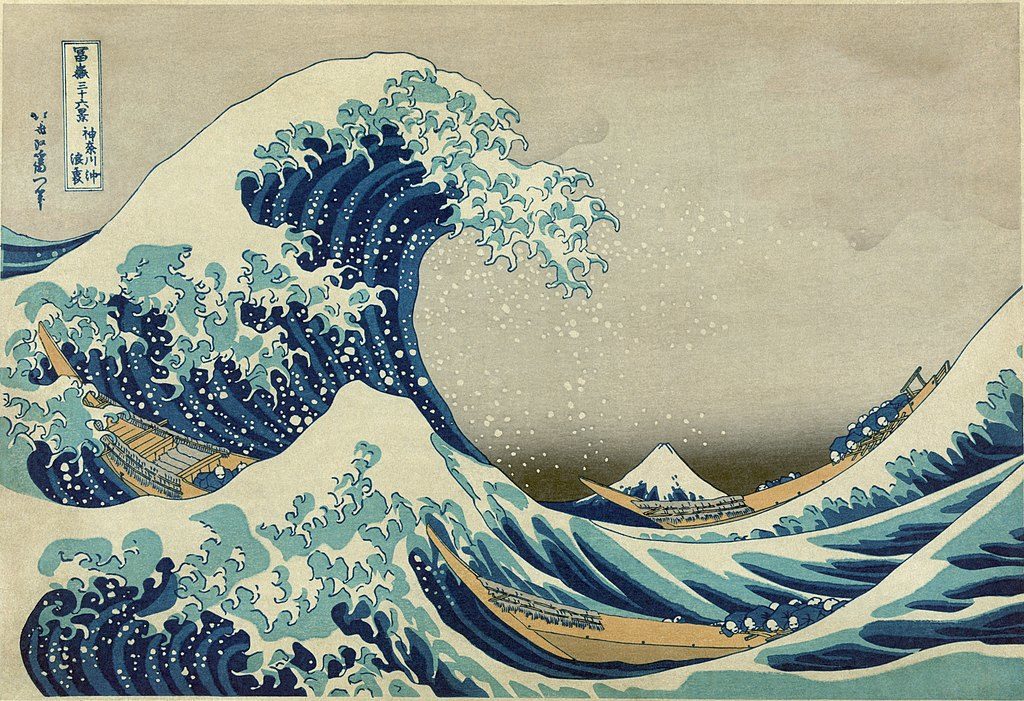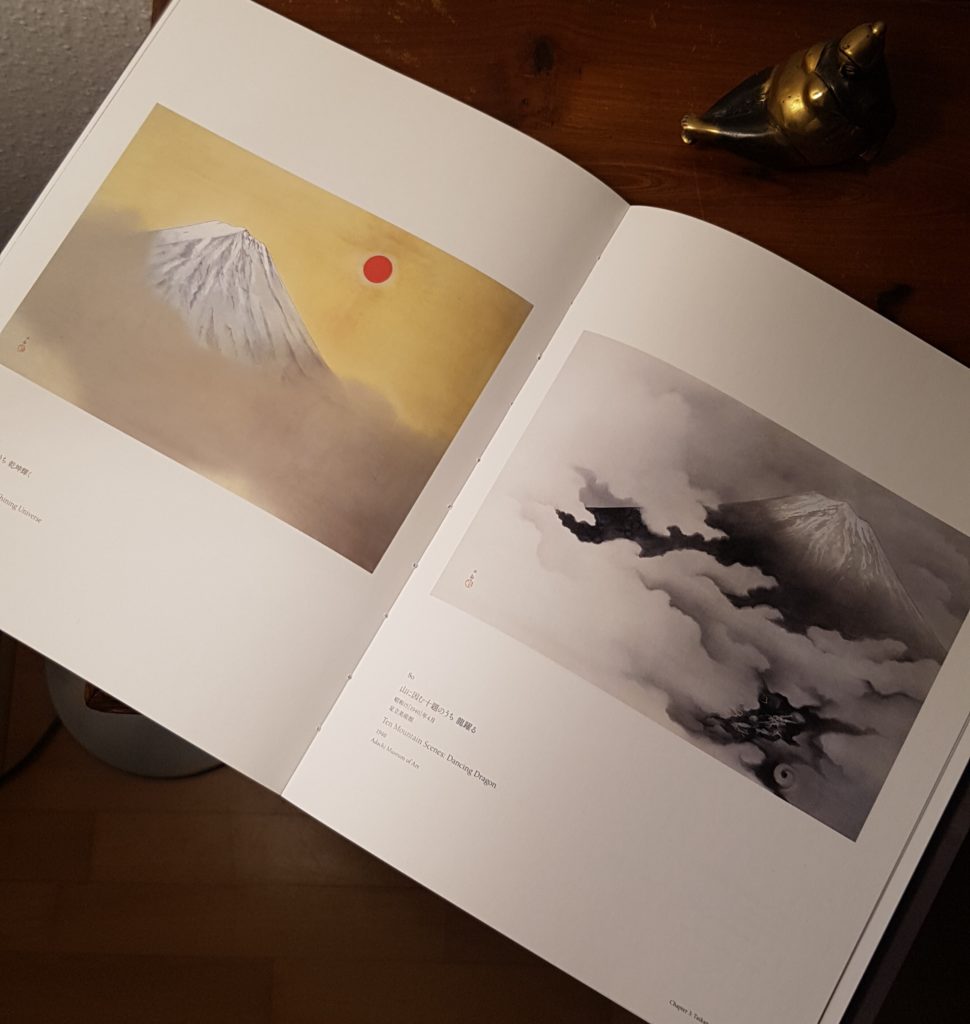 Der Weg ist das Ziel
Inspiriert von der Aussage, dass jeder Japaner mindestens einmal im Leben den Pilgerweg auf den Fuji bestiegen haben sollte, nahm ich die erste Möglichkeit die sich mir 2018 bot war um diese Erfahrung zu machen. – Rückblickend muss ich sagen, das es eine der bisher wertvollsten Wanderungen meines Lebens wurde.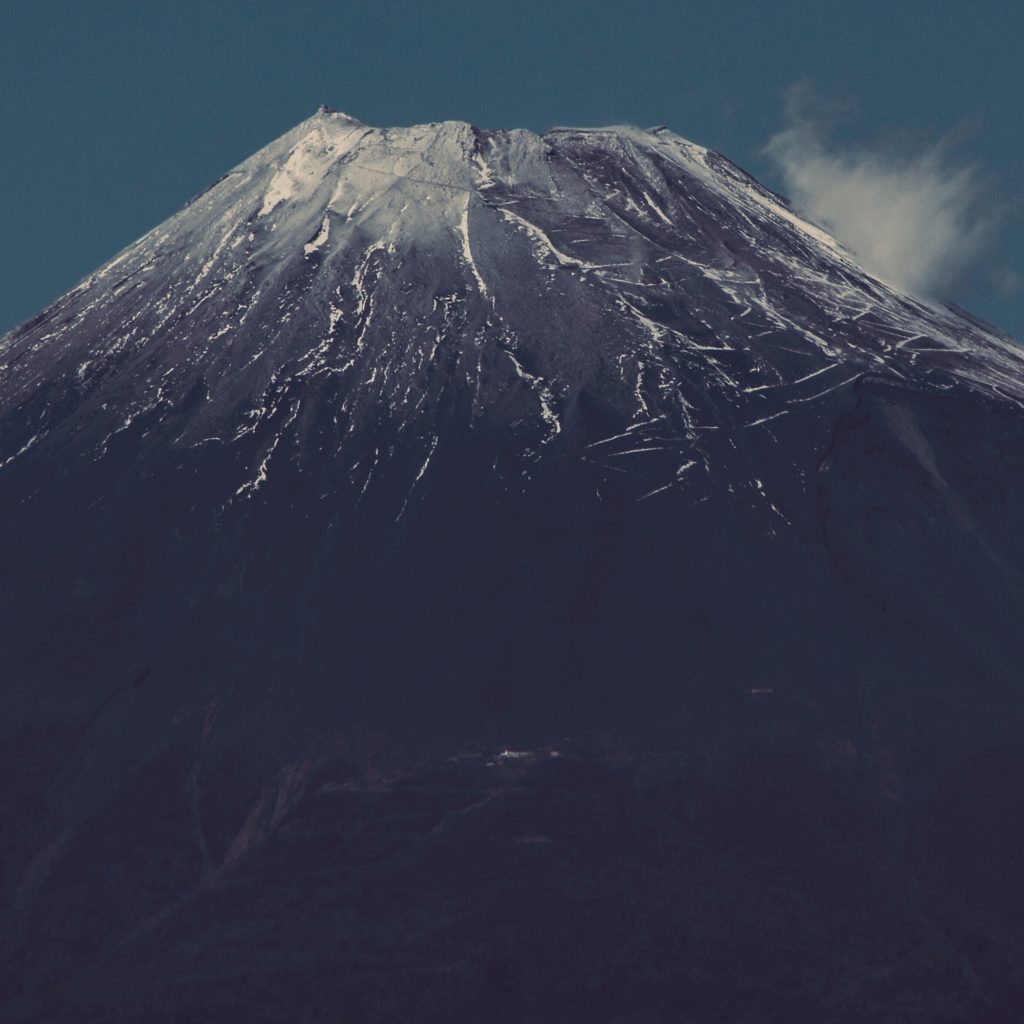 Auf geht's 😍
Dieser Berg ist mit einer Höhe von 3776 Metern über Null kein Spaziergang und berühmt für seine unberechenbaren Wetterwechsel und Wolkendecke. Auch wenn die Route für einen sportlichen Erwachsenen mit der entsprechenden Kleidung und Ausrüstung, wird dazu geraten sich so gut wie möglich vorzubereiten, was Wetter, Verkehr und andere Umstände angeht. Rückblickend muss ich sagen, das ich mit einigen Dingen eine Menge Glück hatte, wie zum Beispiel mit dem perfeketen Wetter. Solltet Ihr zu dieser Reise inspiriert werden oder sie bereits planen, bitte ich jeden darum diese Wanderung nicht zu unterschätzen. Ich habe ca. 12 Stunden für die Strecke in einem Durchgang gebraucht. Vom Parkplatz um 21 Uhr startend um am nächsten Morgen um 9 Uhr wieder zurück zu sein. ( Der Muskelkater nach dem dreistündigen Abstieg die Vulkansteinpisten hinunter hatte epische Ausmasse 🤣 – und ich gehe im Monat 100 km joggen. ) Generell würde ich heute zu einer Übernachtung auf einer der Stationen, auch zum Akklimatisieren an die Höhe raten.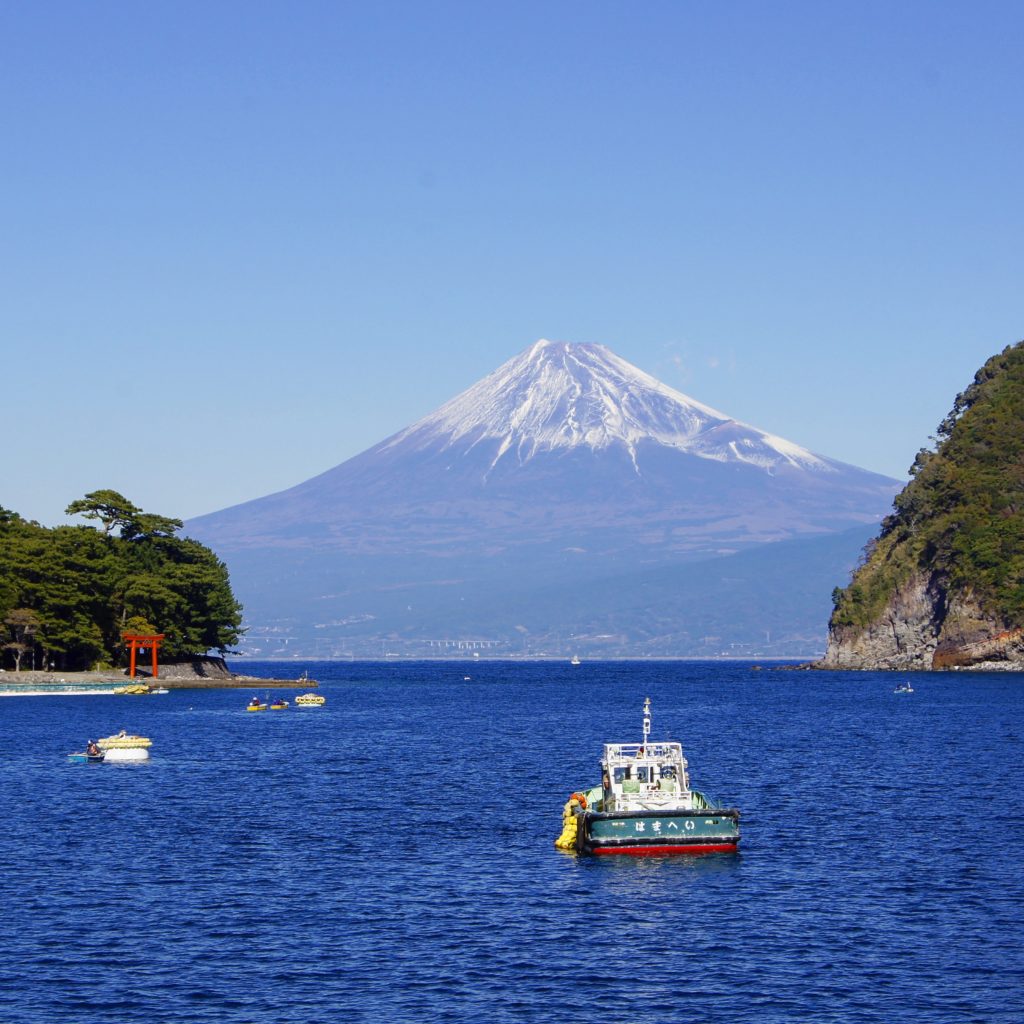 Heute möchte ich euch gern auf diese Reise mitnehmen🚌
Den ersten Blick auf den Fuji an jenem Tag war eher überraschend. Die Sommerhitze war an jenem Tag drückend auf der Fahrt durch die Täler der Saitama Präfektur. Ich war an einer der vielen Bergflüsse angehalten um im Wasser etwas abzukühlen. Danach setzte ich die Fahrt für das letzte Kurze Stück fort, das mich nach Fujiyoshida führen sollte. Die Strasse führte wie üblich kurvenreich durch die Berge um schliesslich in einen der Vorrorte zu münden.
Und dann war er mit einem Mal da! Als ich auf eine grösser Kreuzung zu fuhr, füllte der Berg plötzlich den Horizont, seinen Gipfel mit einer Haube aus Wolken bedeckt. (2.30 im Video) Ein imposanter Auftritt selbst aus der Entfernung.
Schnell stoppte ich am Supermarkt gegenüber um diesen ersten Eindruck (und etwas Eiskaffee 🤷‍♂️😊 ) aufzunehmen, bevor ich zum nächsten geplanten Stop aufbrach, einem der bekanntesten Postkartenmotive Japans:
Aruka Fuji Sengen Jinja
Den Van auf einem erstaunlicherweise nicht sehr vollen Parkplatz zurücklassend, nahm ich erst die Treppen zum "Büro" um mir im Schrein einen roten Stempel für mein Stempelbuch abzuholen, um dann den Weg weiter die Treppen hinauf zu folgen, zu einer der berühmtesten Pagoden Japans.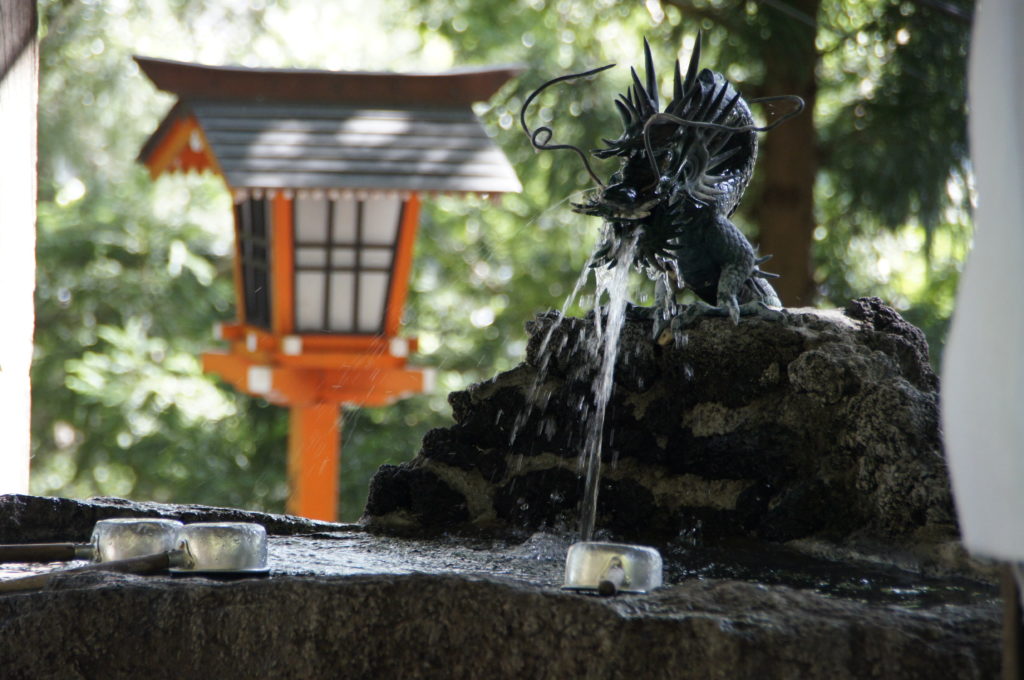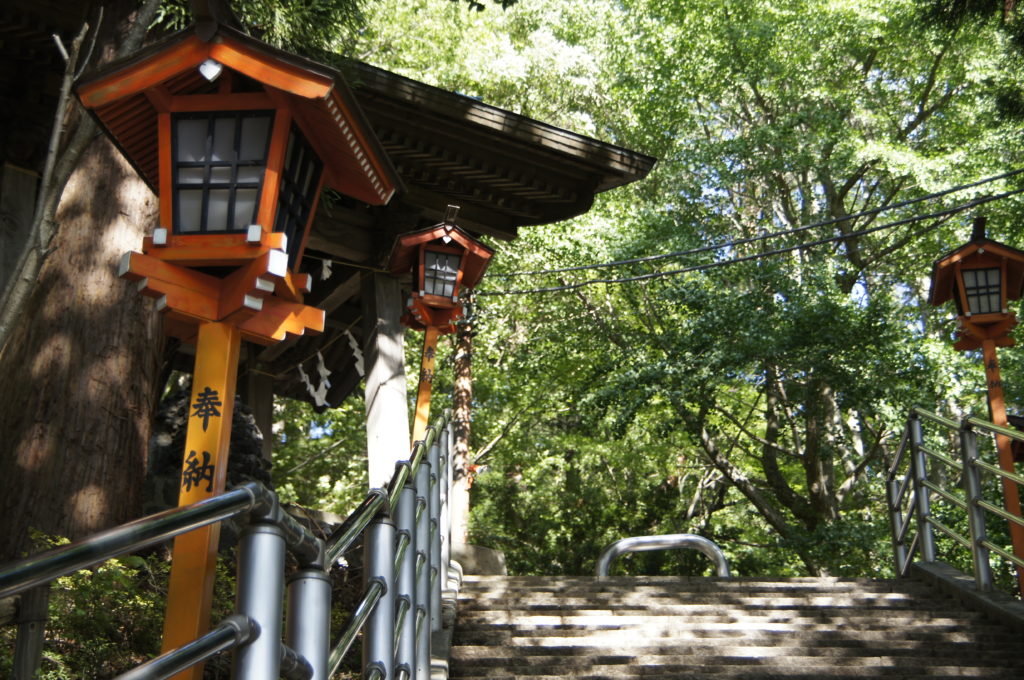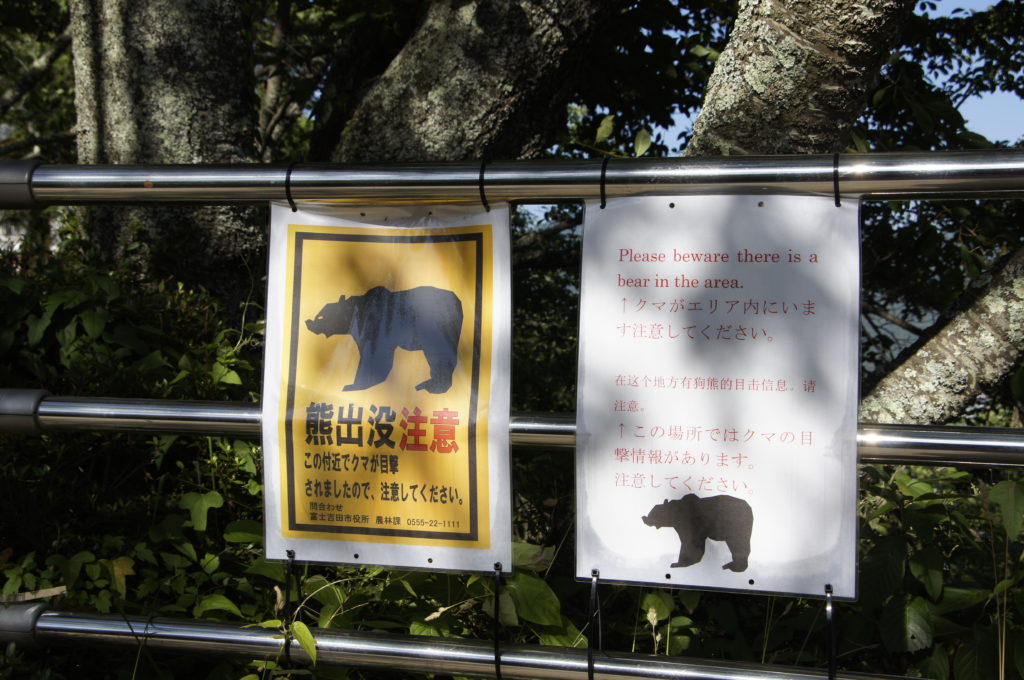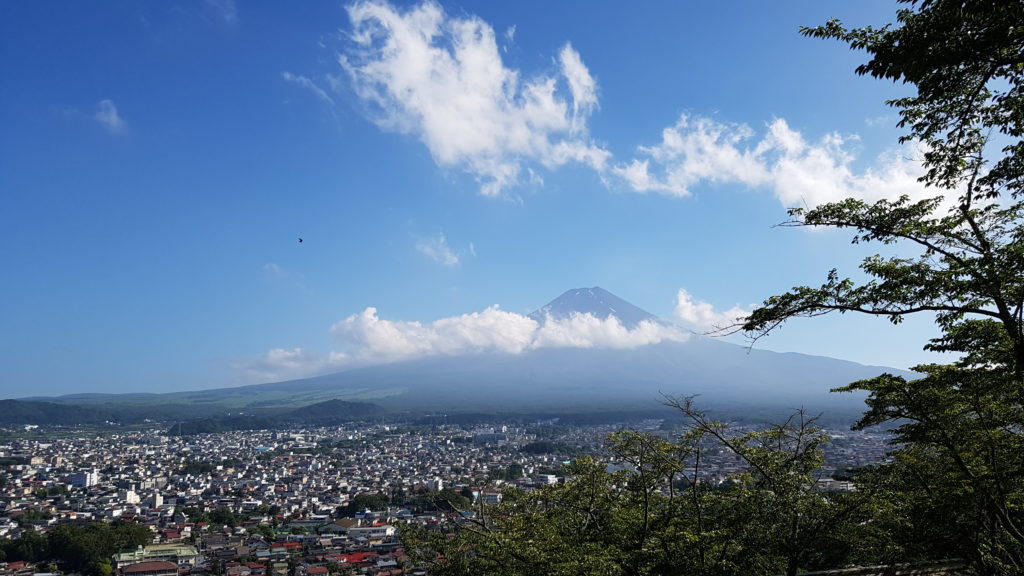 Es war garnicht mal so viel los. Da man nur mit dem Auto direkt anreisen kann, werden wohl nicht viele Touristen ausserhalb der Kirschblüte die Mühe auf sich nehmen. 🤷‍♂️
Nach einer einigen postkartenreifen Bildern konnte ich kaum erwarten den Berg nun selbst zu entdecken. Die kommende Nacht verprach ein grosses Abenteuer an derem Ende der Gipfel und der berühmte Sonnenaufgang stand. 😆
Kurz darauf fuhr ich die Subaru Maut Strasse hinauf. Subaru scheint hier der Sponsor zu sein, etwa wie in Europa Stadien gesponsert werden und es gibt auch ein Subaruland an der Einfahrt. (habs noch nicht erkundet 🤷‍♂️)
Hinter der Mautstation wand sich die Strasse mehr oder weniger durch die Wälder an den breiten Flanken des Berges hinauf. Der Verkehr hielt sich überraschender Weise in Grenzen, wohl der frühen Saison geschuldet, mit dem gelegentlichen, entgegenkommenden Bus oder Pkw.
Nach einiger Zeit bekam man ein Gefühl für die Nähe des Berges, besonders als der raue Vulkankegel immer wieder zwischen den Bäumen erschien, sobald die Straße direkt auf ihn zusteuerte.
Das man sich dem Ende der Straße nähert merkt man schließlich daran, daß die Anzahl großer Parkplätze zunimmt von denen Wanderwege in die umliegenden Wälder führen und auf denen der gelegentliche, freie Blick auf den Berg möglich ist. Die Aussicht ist in meiner Vorstellung damit vergleichbar, wie man sich wohl einen Marskrater vorstellt, mit seiner rötlich, braunen Farbe. Dabei ist der Berg aus dieser Nähe auf einmal gar nicht mehr so imposant wie er noch vor kurzen aus der Ferne war, da die Hänge nicht so steil und spektakulär wie in den Alpen wirken. Von so nah kann man seine wahre Größe nur erahnen.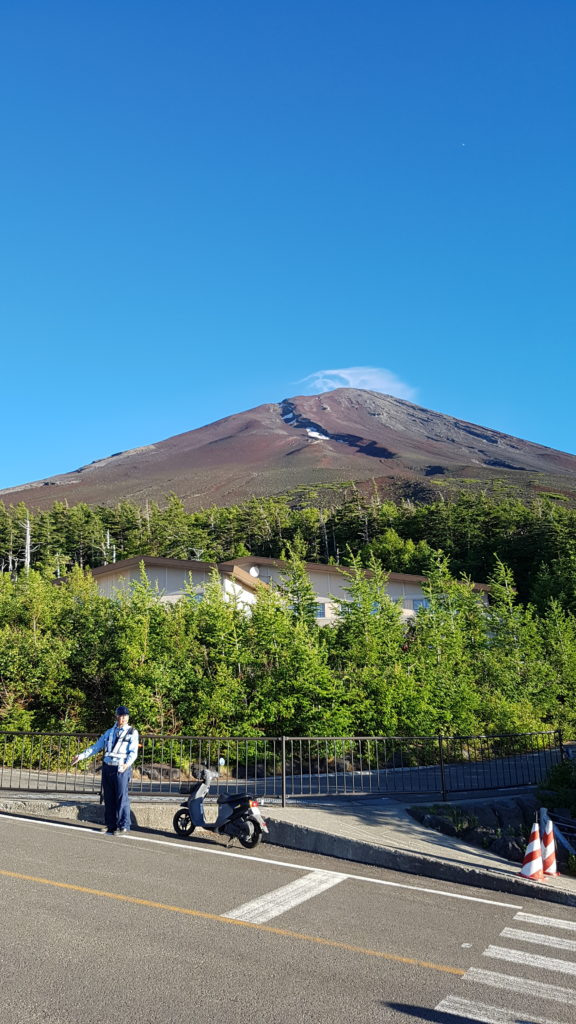 Schließlich nachdem man einige Kilometer Parkplätze passiert hat (die nur darauf schließen lassen wie voll es hier in der Hauptsaison in den Schulferien oder der Obon Festival Woche werden muss😳), erreicht man die Endstation:
5te Subaru Station

In der Subaru Station war ordentlich etwas los. Ich kam spät am Nachmittag an und fand ohne weitere Probleme einen Platz für den Van auf dem großen Parkplatz direkt neben dem Besucherzentrum, der voll war aber noch nicht das Ende seiner Kapazität erreicht hatte.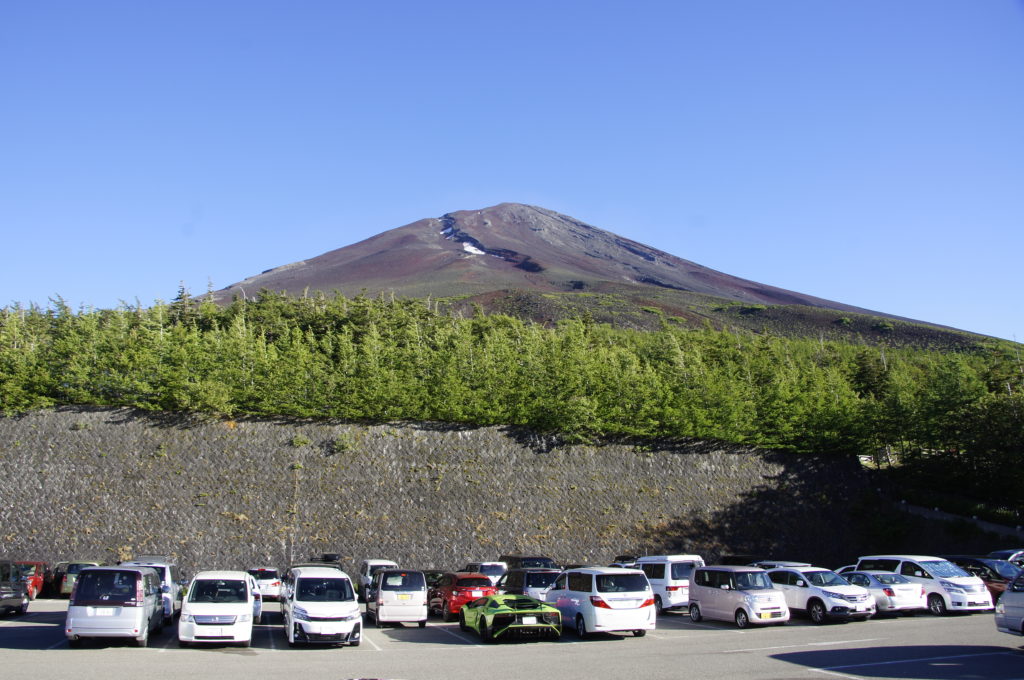 Nachdem ich die Läden und das Besucherzentrum erkundet hatte, betrat ich schliesslich aus reiner Neugier die Ranger Station, um zu sehen ob es irgendeine nützliche Information zu finden gab, die ich noch nicht auf den Webseiten gefunden hatte. Ich fand mich schnell in einem Gespräch mit einem freundlichen japanischen Ranger wieder, der wie sich herausstellte, in Deutschland studiert hatte und wie alle Einheimischen mit dieser Vorgeschichte, exzellentes Hochdeutsch sprach. Also hatten wir ein nettes Gespräch, während dem ich ein paar neue Dinge über den Fuji lernen konnte. Ich wurde nach meiner Ausrüstung gefragt und der Ranger gab mir weitere Auskunft über die Nachhaltigkeitsarbeit die sie am Berg betrieben. Ich spendete daraufhin gern die 1000 yen für die man einen schönen Rucksackanhänger "Ich habe den Mount Fuji 2018 bestiegen" erhält, der aus dem Holz der Pinien die am Berg wachsen gemacht ist.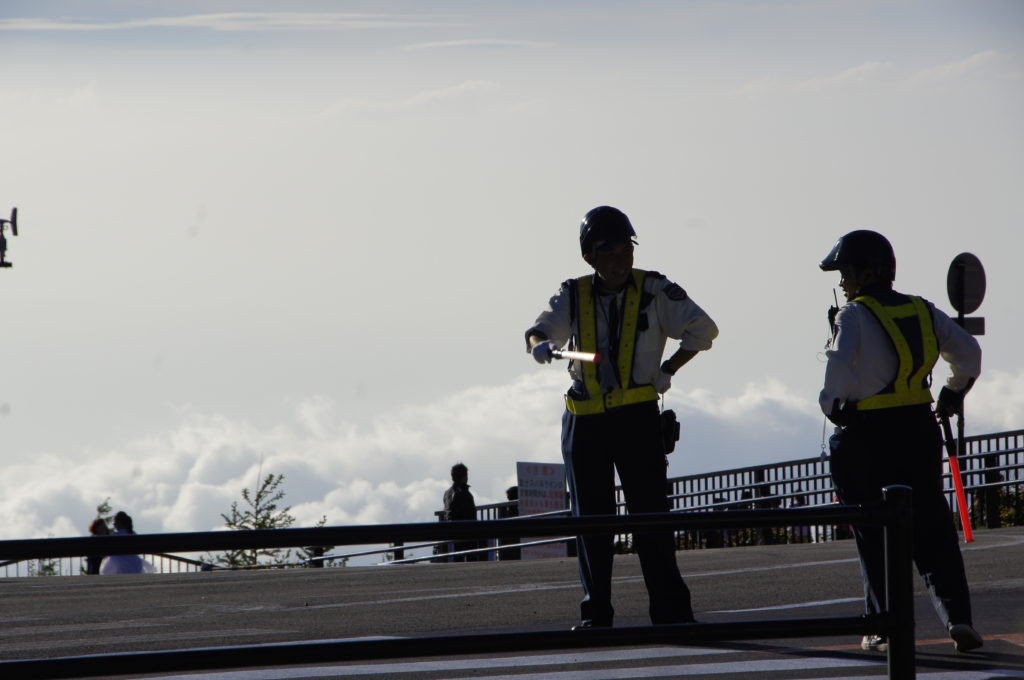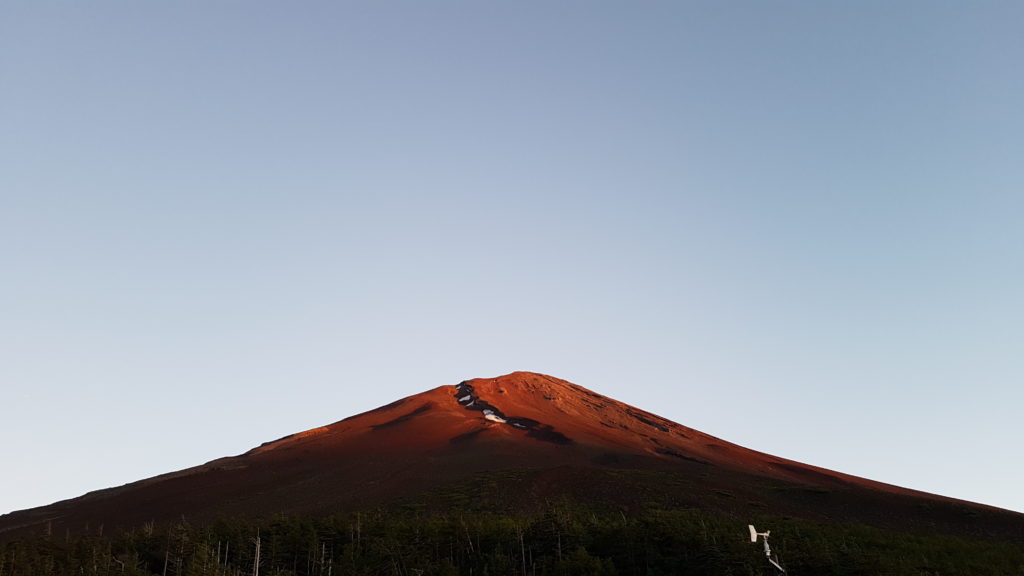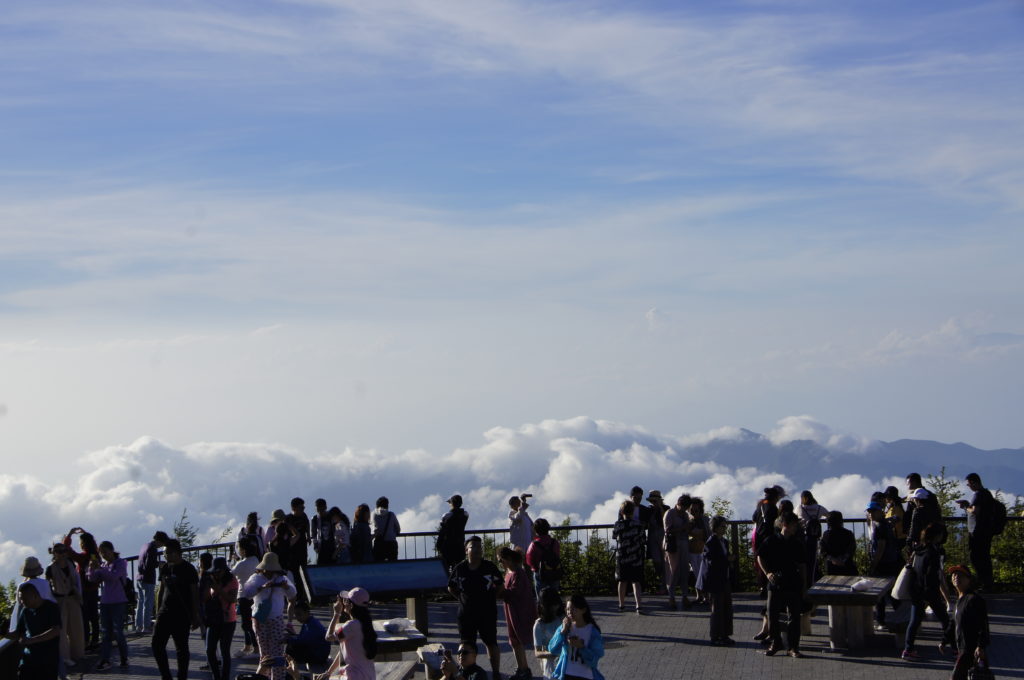 Nach der aufschlussreichen Begegnung in der Rangerstation verbrachte ich den Rest des Abends auf der Besucherterasse, den Sonnenuntergang über den Wolken mit hunderten Gleichgesinnten betrachtend, die sich in gefühlt mehr als 20 verschiedenen Sprachen um mich herum unterhielten. Menschen aus allen Kulturen der Welt, die sich dank ihrer Möglichkeiten hier zusammenfanden um trotz ihrer Unterschiede ein Ziel zu teilen.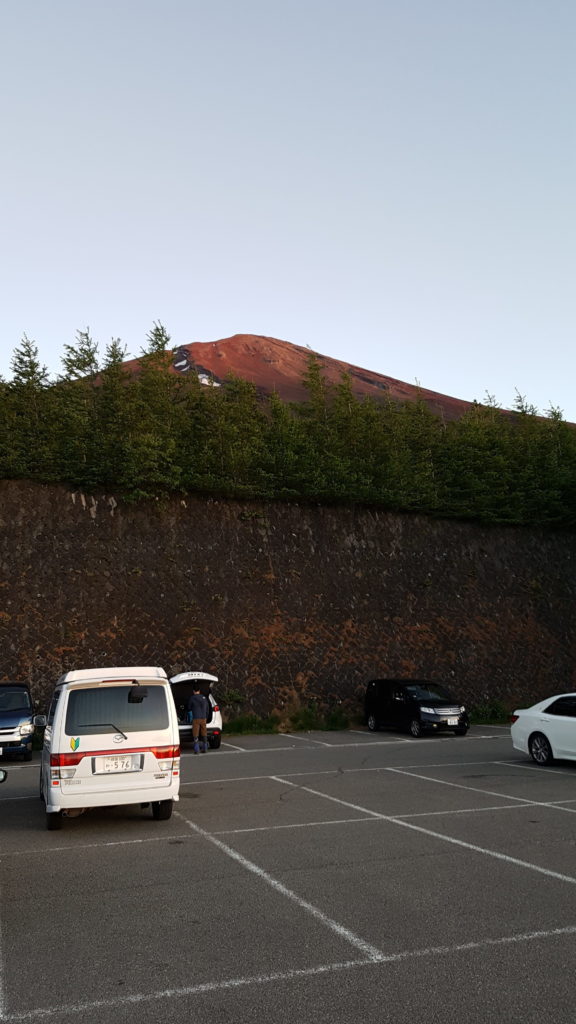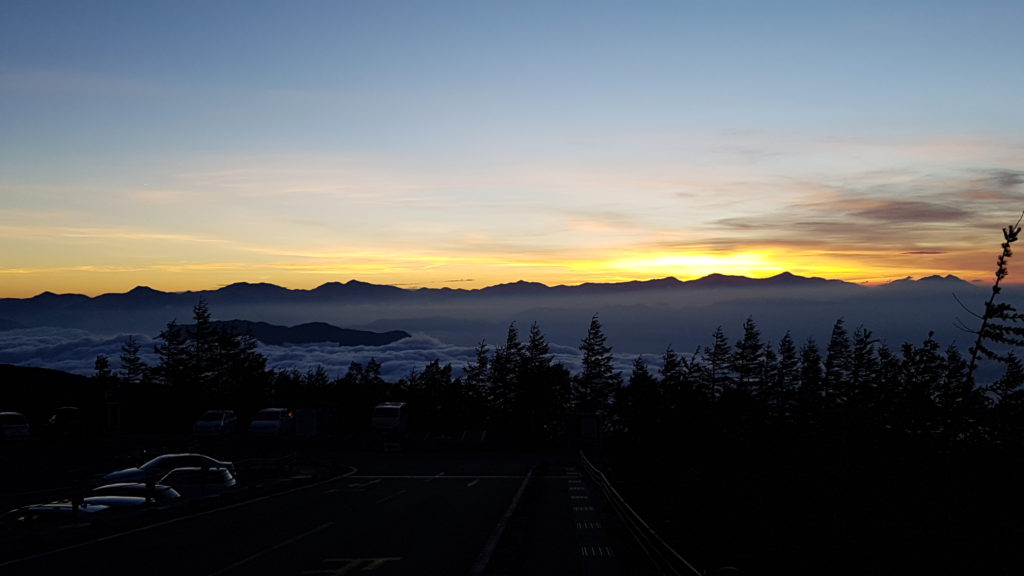 Mit Einbruch der Dunkelheit zog ich mich schließlich in den Van für ein Nickerchen, was natürlich nicht wirklich funktionierte. Mit all der Vorfreude konnte ich kaum die Augen schließen. Es war 21 Uhr als ich im Licht des aufgehenden Mondes in die milde Nacht hinauszog .
Yoshida Pfad Aufstieg
Das erste Stück des Weges verlief ein Weile parallel zum Auftieg die Bergflanke entlang. Es gab kein Licht, also wanderte man durch die Dunkelheit zwischen den Bäumen die nur von den Lichtern anderer Wanderer unterbrochen wurde. Aufgeregte Stimmen, die meisten von Ihnen englisch, kamen aus den Grüppchen die rund um mir dem Weg folgten.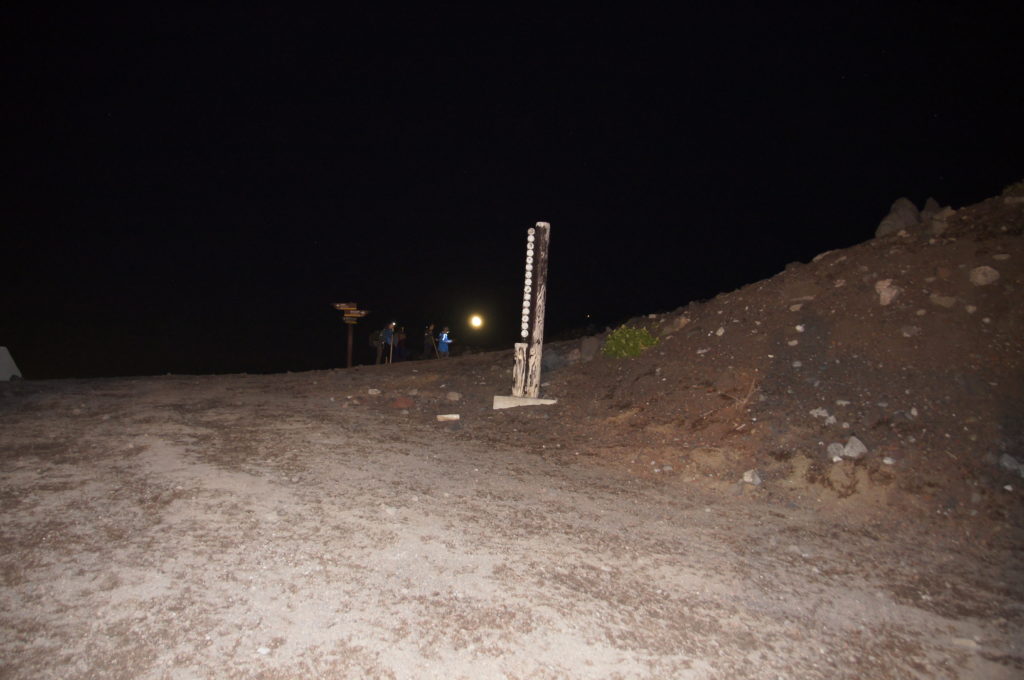 Pause. Ab hier geht der Text bis zum nächsten vorerst in Englisch weiter.🤷‍♂️

After a while you could hear speakers blaring through the night. The announcement a continuous loop of warnings and advice regarding the ascending path. I entered the open space in front of the route that went up and got a first glimpse of the surroundings.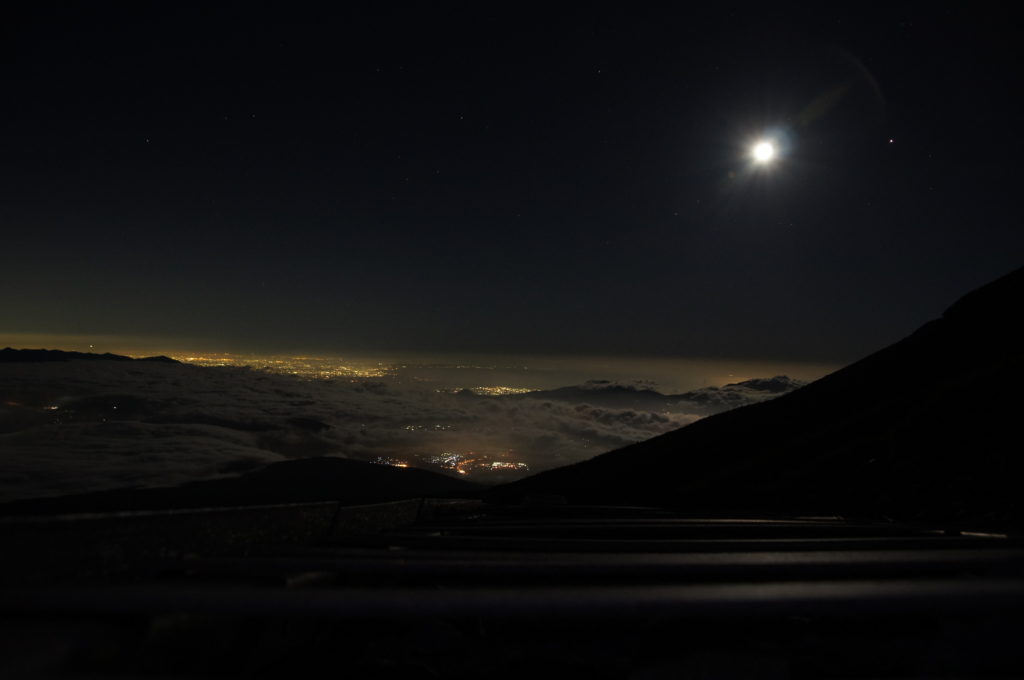 Down below you could see the lights of the surrounding cities. Some covered by clouds with a light of see behind a mountain range on the horizon which was probably Tokyo or at least some part the Kanto region. As I turned around to face the mountain I could see the chain of lights that represented the famous Yoshida trail. Zigzagging up the slope you could already guess at its course and see the occasional headlight of a hiker in between the larger spots where the stations where located, every few hundred meters en route to the peak.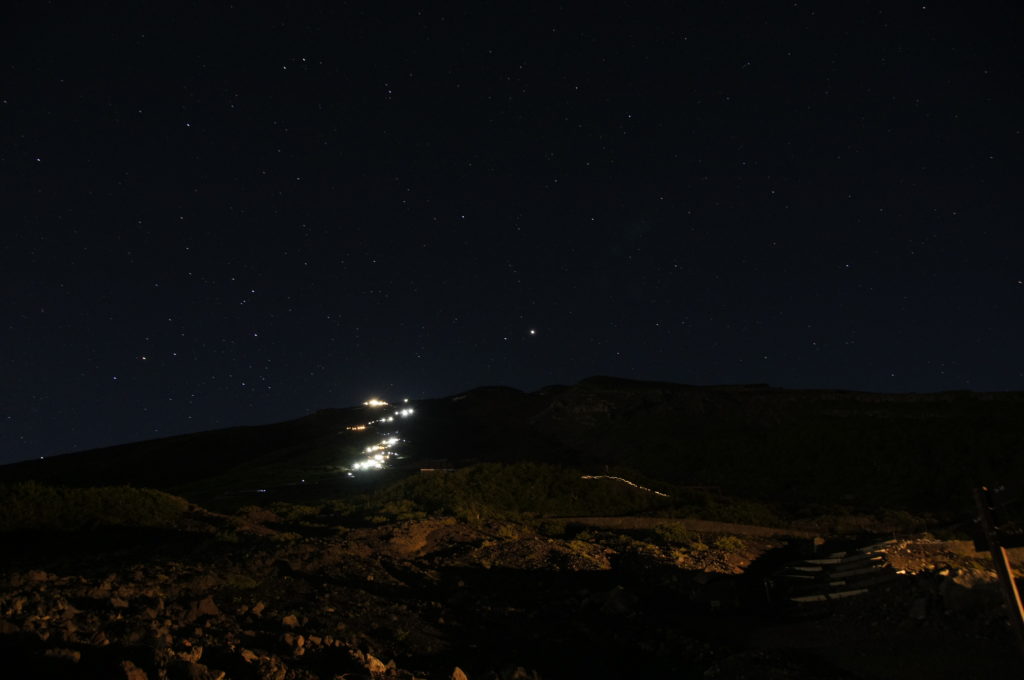 Starting the ascent, it was fun watching and listening to the conversations around me. Occasionally I joined in. It was mostly young people from all over the globe that where as exited as I to go on this trip. I met a group from the US who's hilarious conversation was about the latest gossip in their community.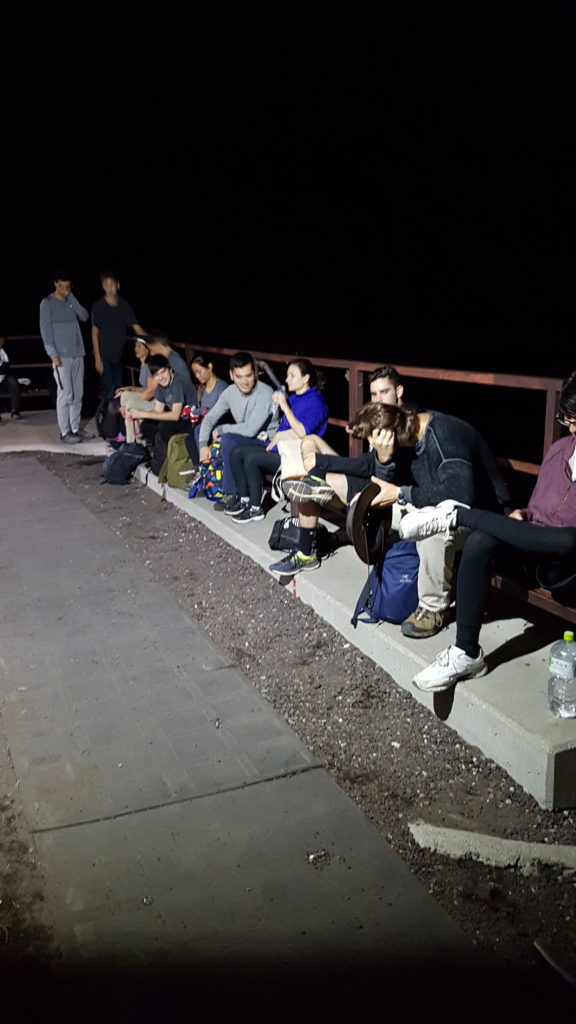 It was a lush and unexpected 19 degrees celsius when I started out and I began to sweat with the exercise the climb provided, so after a while I started to strip down to my T-shirt. The path was becoming narrower over time, nevertheless was well maintained an basically becoming a convenient staircase made out of volcanic rock.
Upon the second station up the trail, I met my first group of Germans, a bunch of guys in their late teens from Leipzig. We were chatting a bit as they waited for one of their comrades, who when he arrived made already a very exhausted impression. 'He is not going to make it to the top, if he is exhausted this early already.' I thought. They were backpackers that came up from Tokyo for the night to make the sunrise hike, but had totally underestimated the climb. I bid them farewell after a while, moving on to the next station.
Somewhere along the track around midnight, I met Bryan, a craft beer brewer from San Francisco, who had visited family in Korea and now was taking the opportunity to do the Fuji hike during a vacation in Japan. We steadily climbed over several hours, stopping at the stations for the odd coffee and to take in the view. It was really nice to bond with someone from the other side of the world during this memorable trip.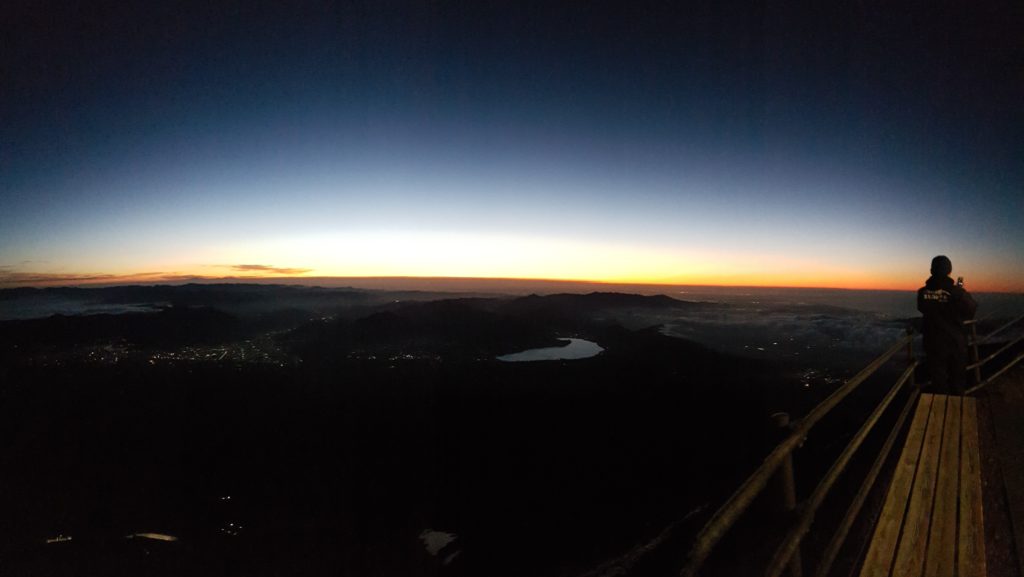 At over 3000 meters, past 4 am, it started to get cool, so we changed into the warmer gear that would be necessary at the peak. The air was getting considerably thinner and our steps became slower as my breathing got strained. At the 11th station at 3250 meters we could already see dawn coming over the horizon. We finally decided to take the sunrise from there with about 50 other people. No need to rush to the peak which was at least another hour away. The view was as magnificent from here. So we took our cameras out, got another coffee from the kiosk and chatted away while we waited.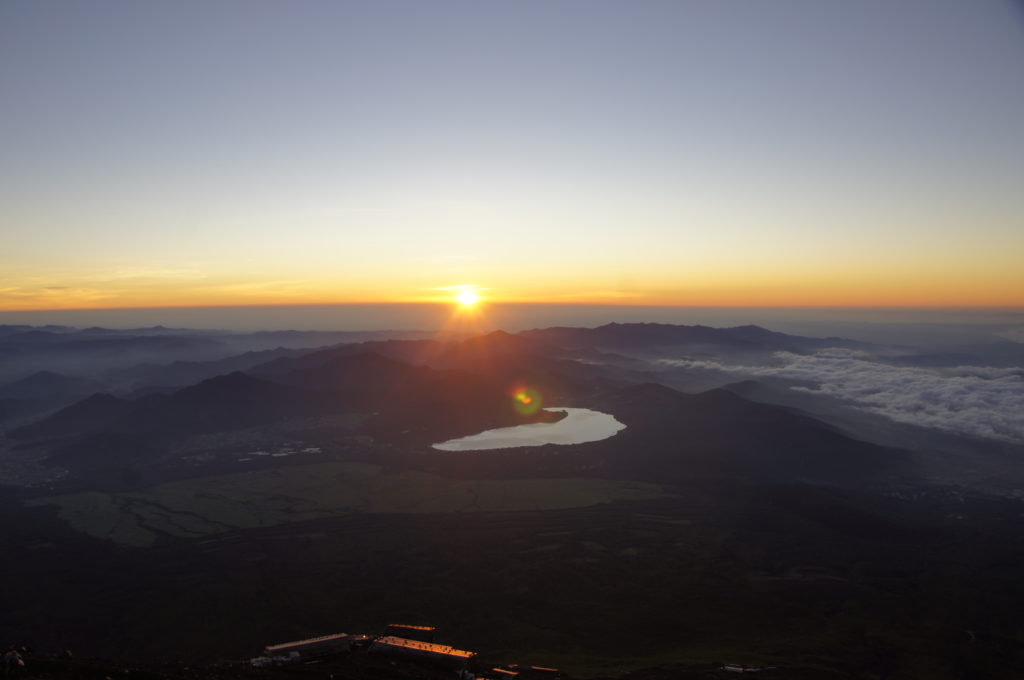 The Moment the sun came out was truly a sight to behold. Its a very intense experience. Me up here, made me think about a lot of thinks that had come past in my life. Talking to Bryan about who we where and why we'd come had brought up a lot of memories already. The least to say it was a very emotional moment for me and still is today, as it marked another occasion that changed how I saw life. It's not about being spiritual for me, standing up there, seeing the beauty of the world and the opportunities you have. It rather had a big influence on future decisions on what I want out of live and who I want to be.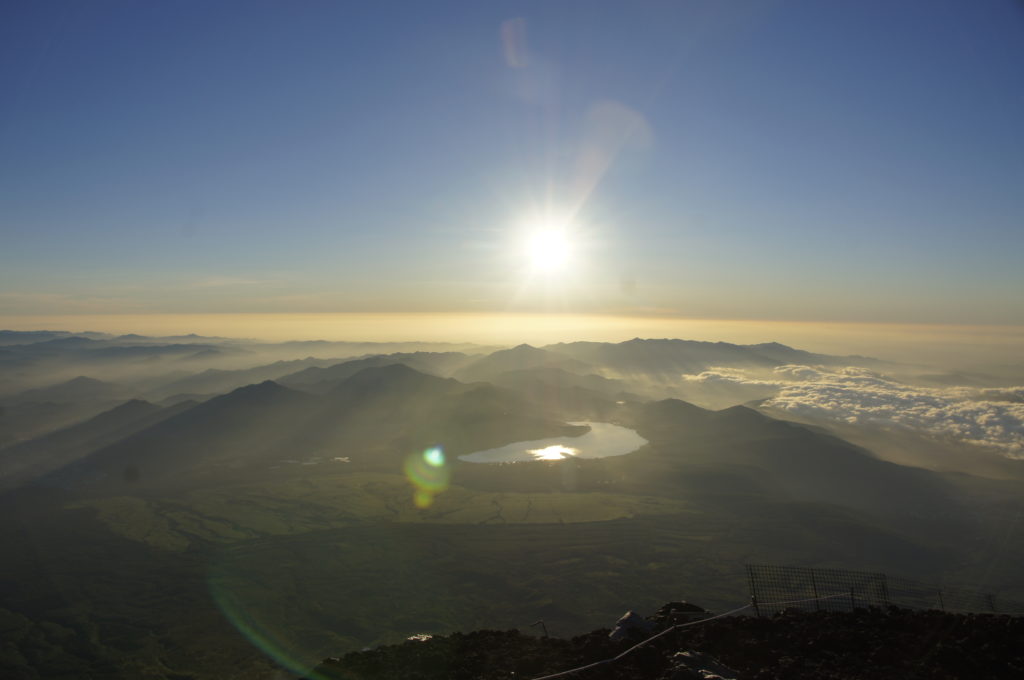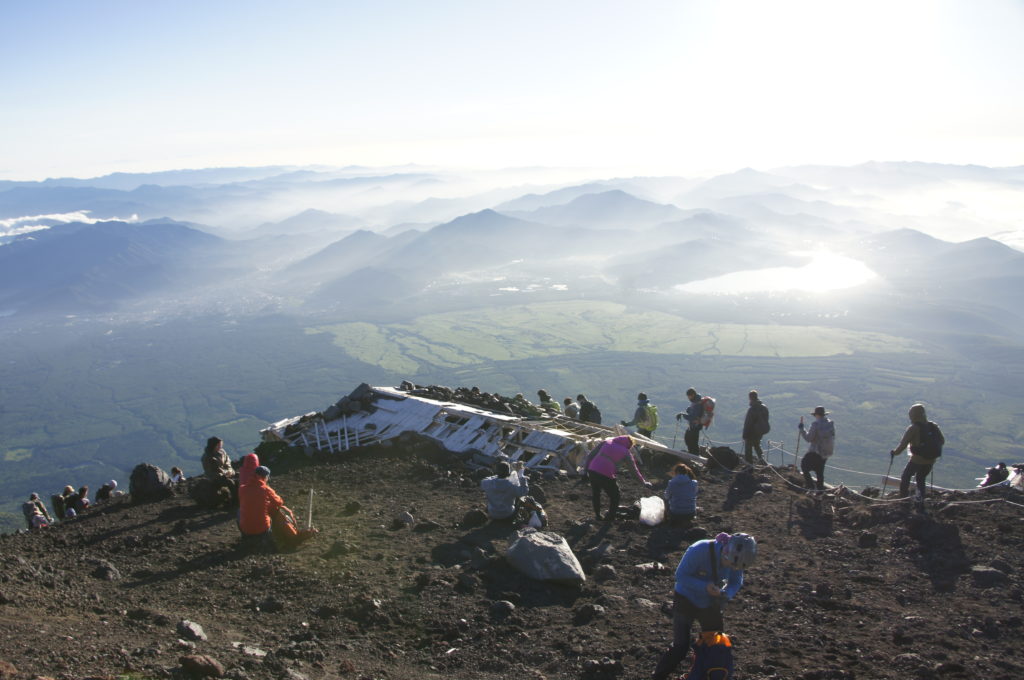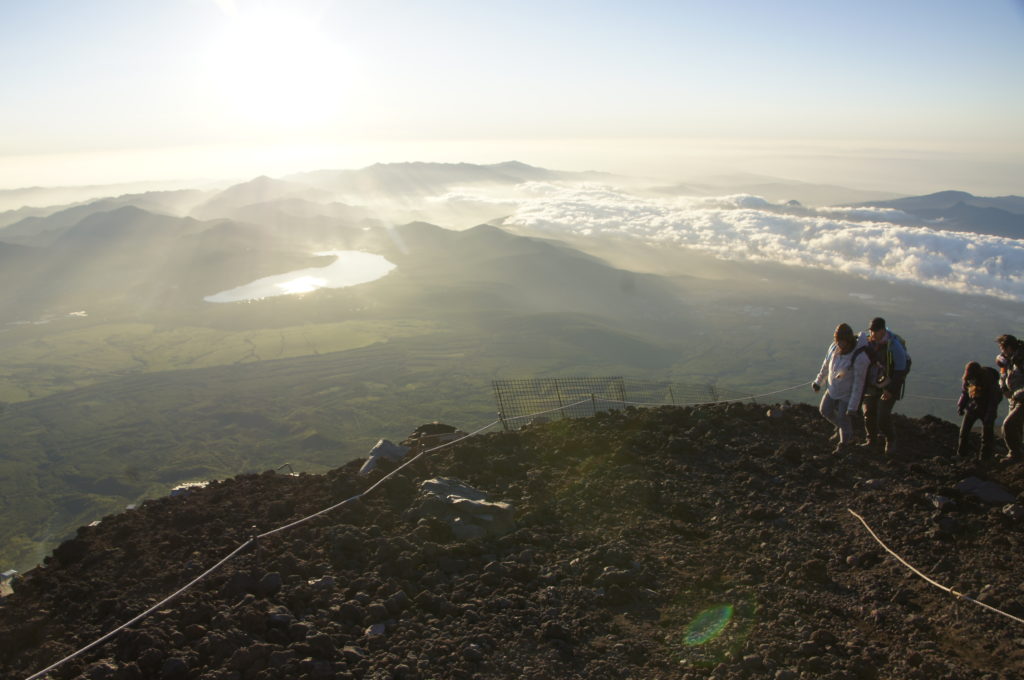 After half an hour we decided to move on to the peak. The crater edge was already to be seen about a kilometer ahead in the distance. And there it was: people were standing in line for the last couple of hundred meters. I read about it before, but it was kind of funny to see it in person. The path became really crowded now with people that were on their final meters and oncoming traffic that already left after the sunrise.
I in the meanwhile we could take in the view of the scenery below that was really breathtaking in the sunlight.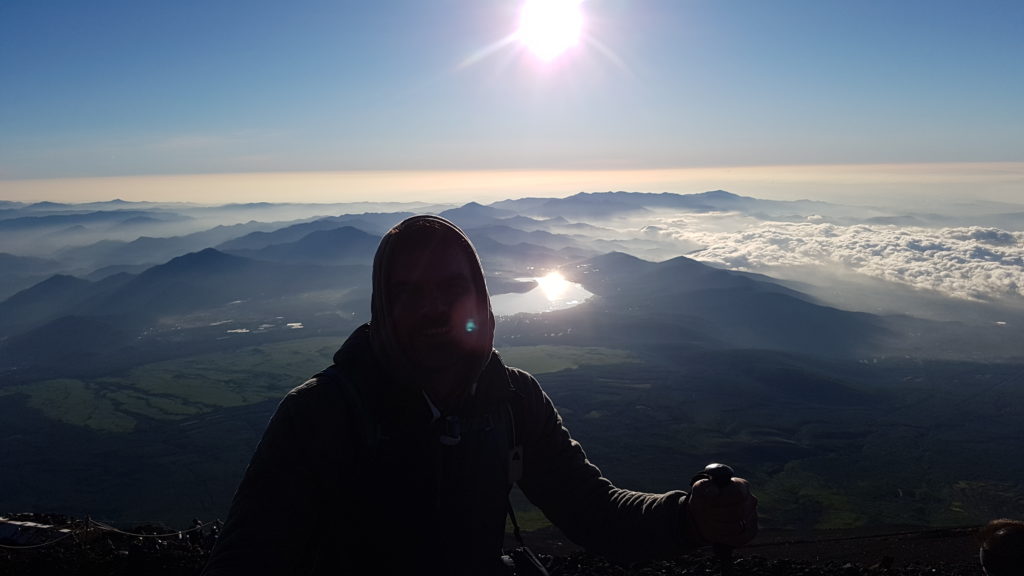 About 20 mins later, at about 3500 meters, the headache struck me. I can't say if it was height sickness, but I'm pretty sure it was at least related to the height. As with my marathon running, I'm out there to enjoy myself and not to risk my health, so knowing the risks and that I had not taken the precaution of sleeping a night at Subaru 5th Station or higher, I already had decided earlier, that as soon as something like height sickness was showing, I would turn back, as getting lower is key to get better again.
So I said my goodbyes to Bryan, who moved on. A couple of days later we shared emails with pictures. He had made it to the peak and send some really nice pictures from up there.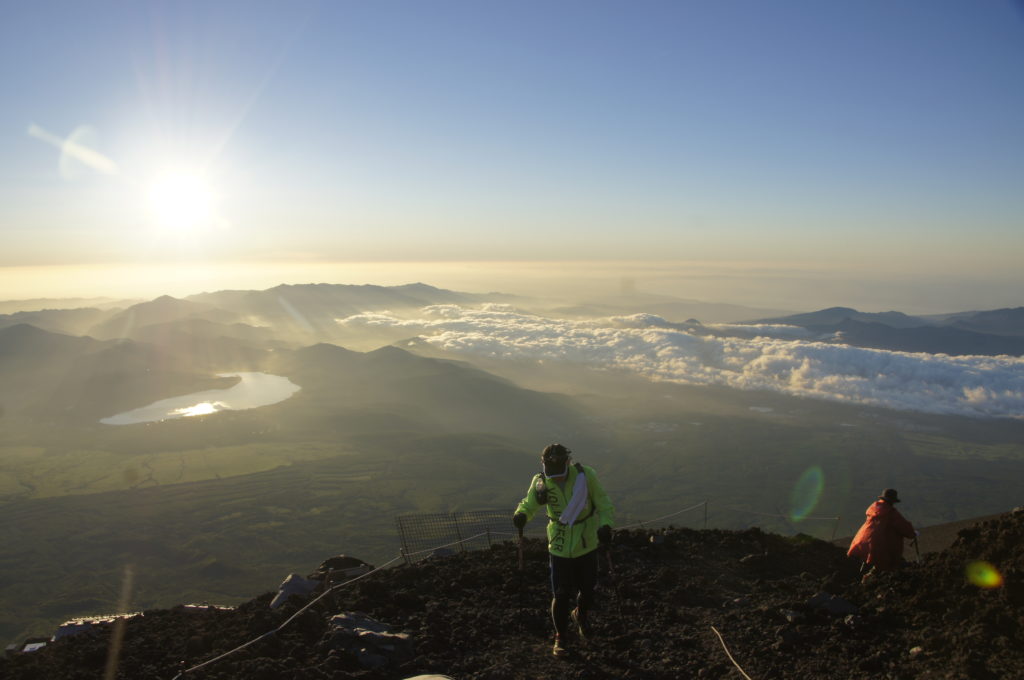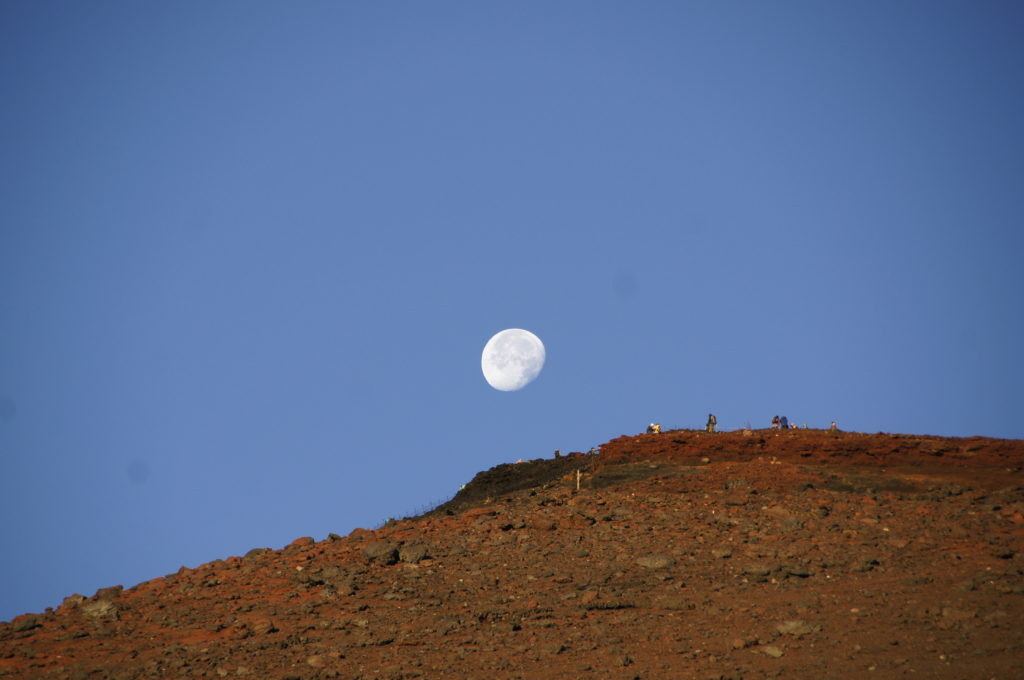 Descent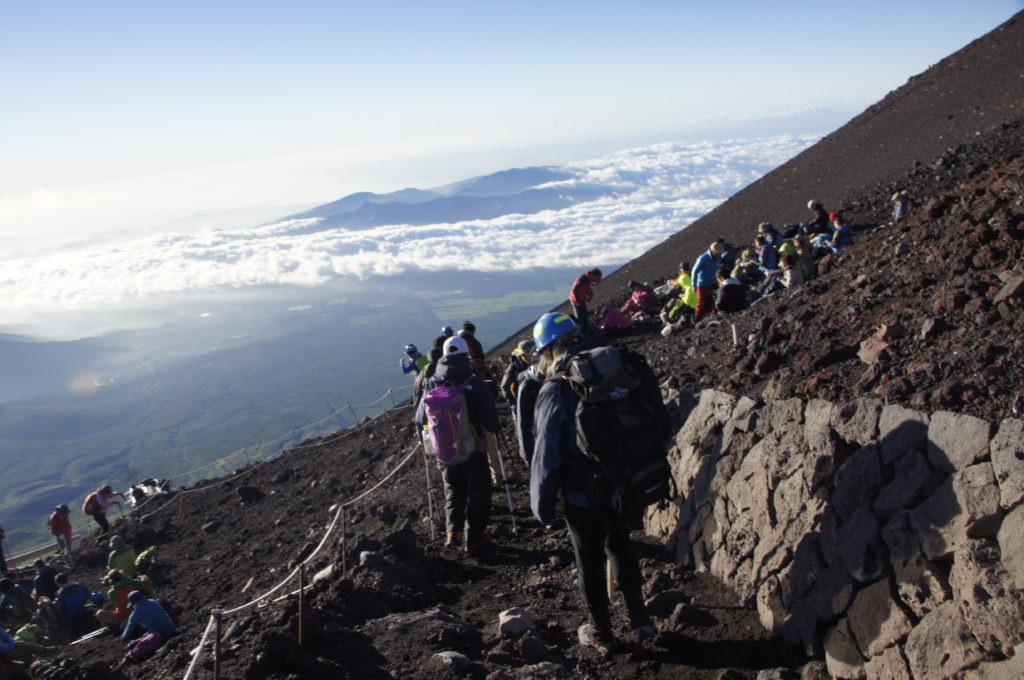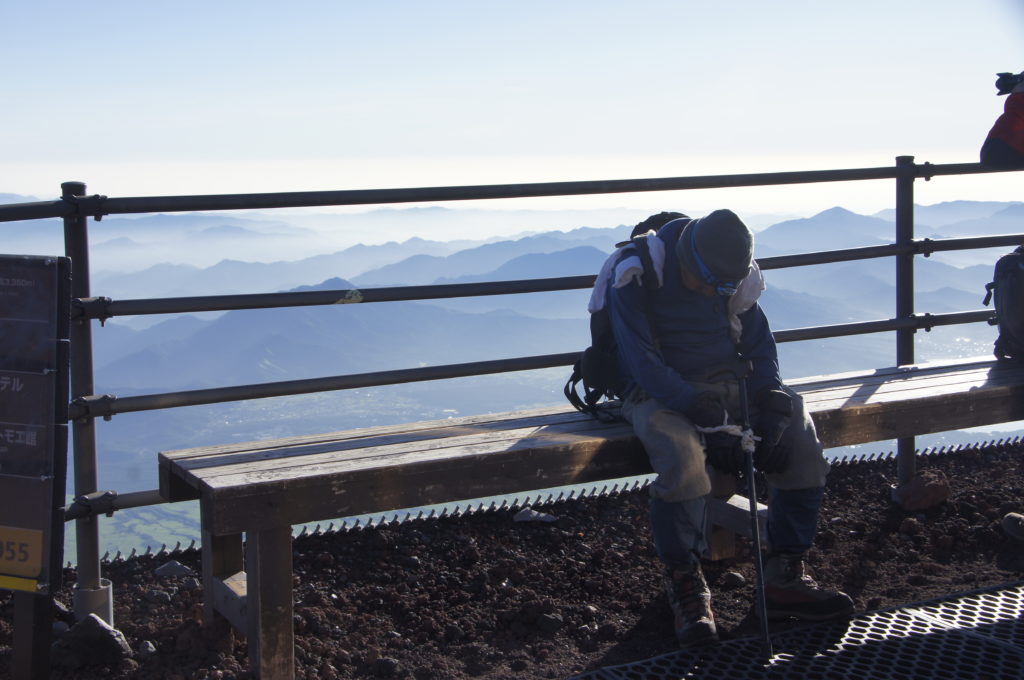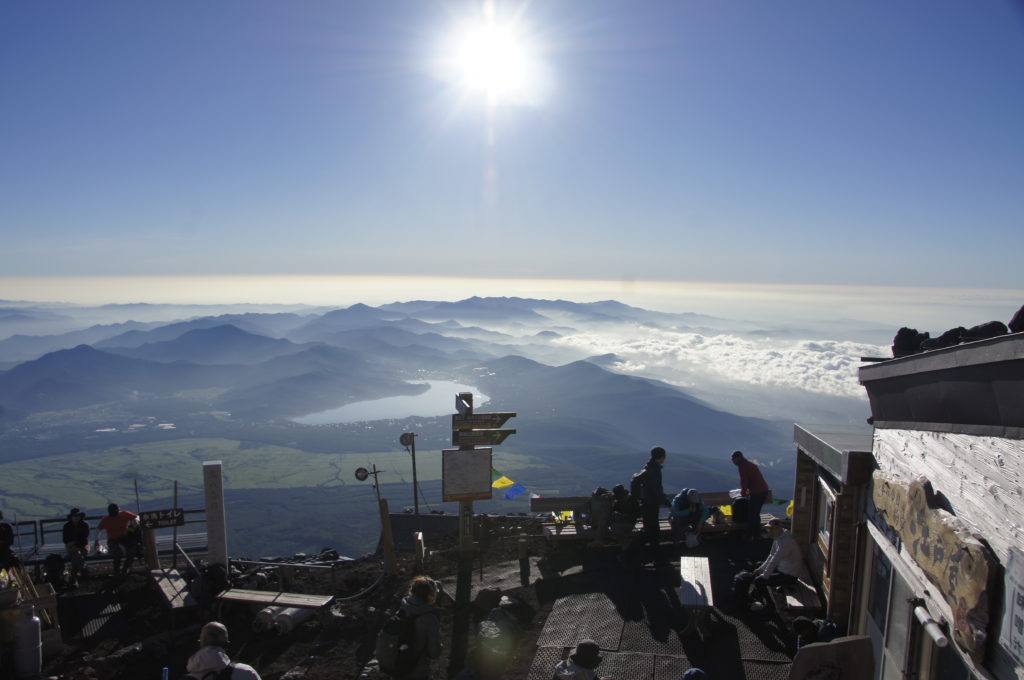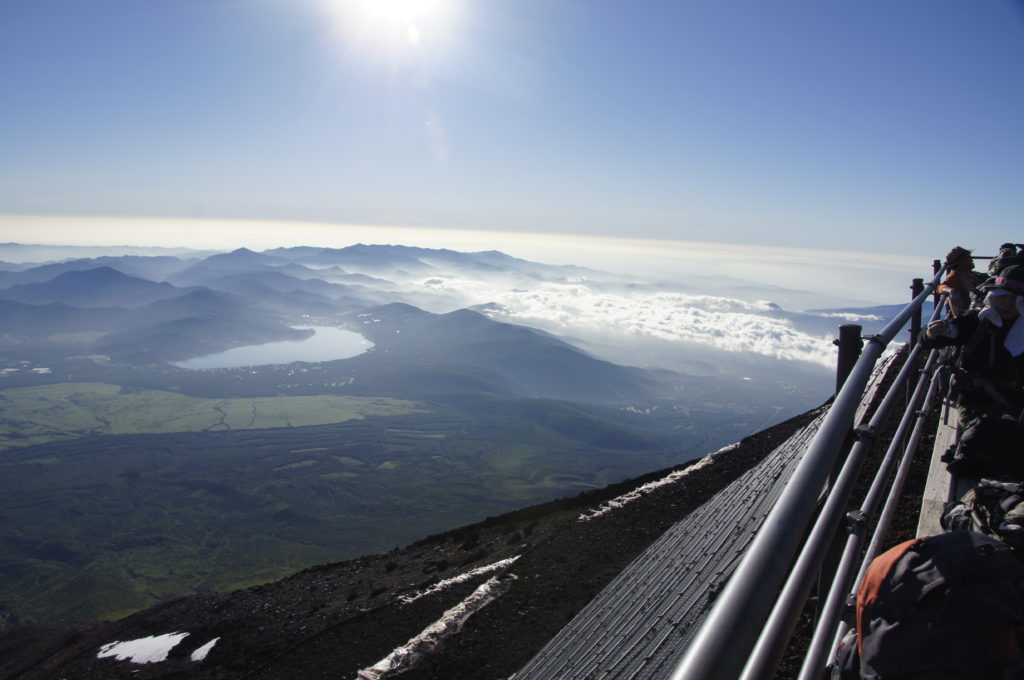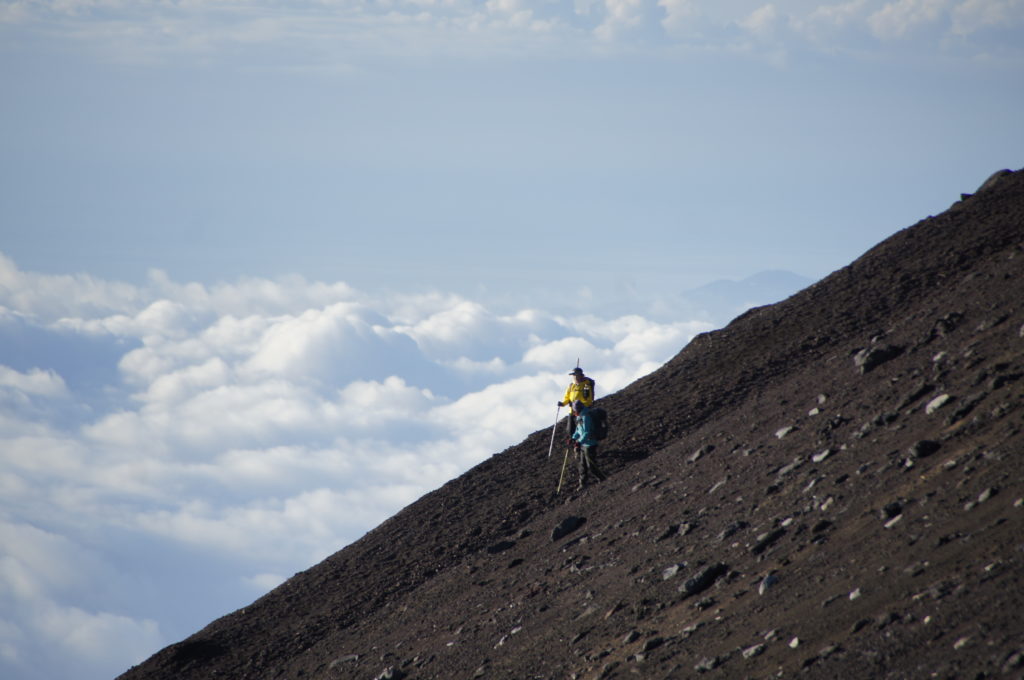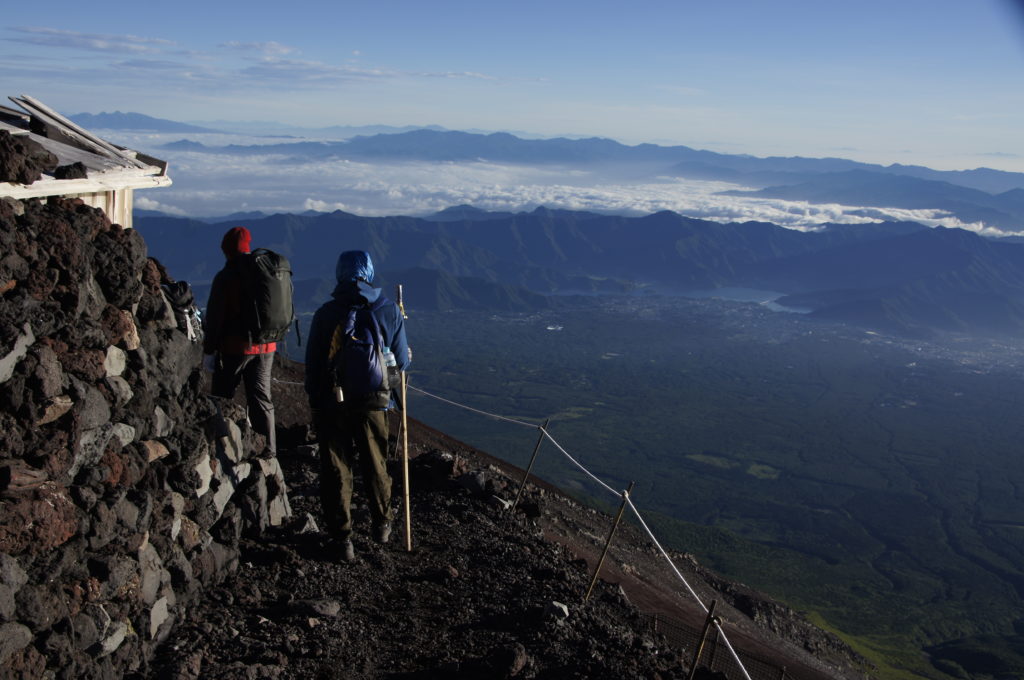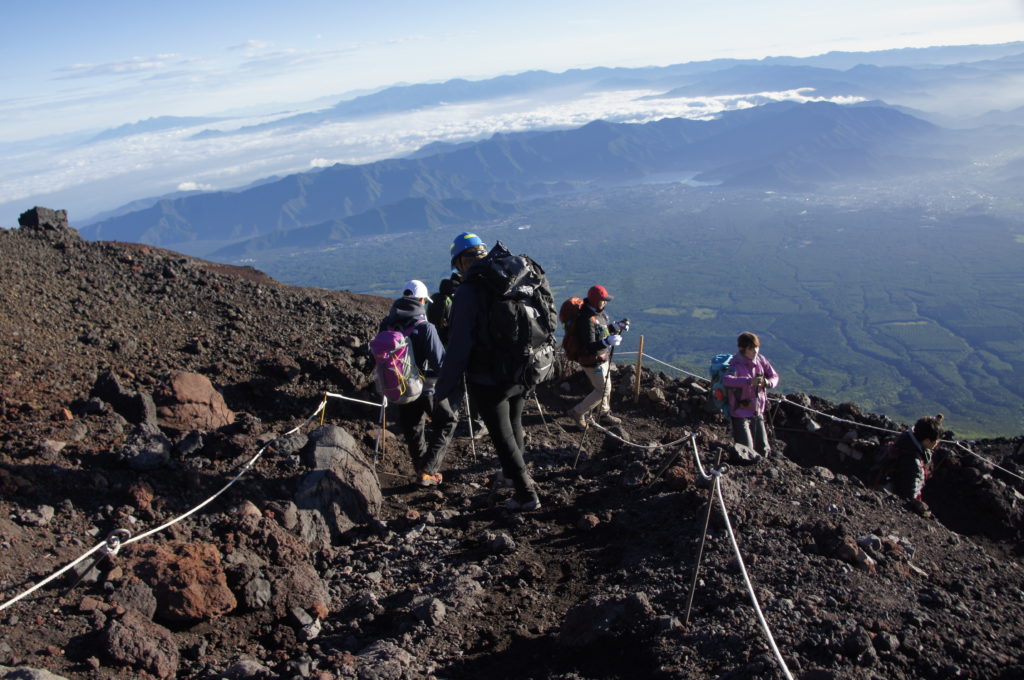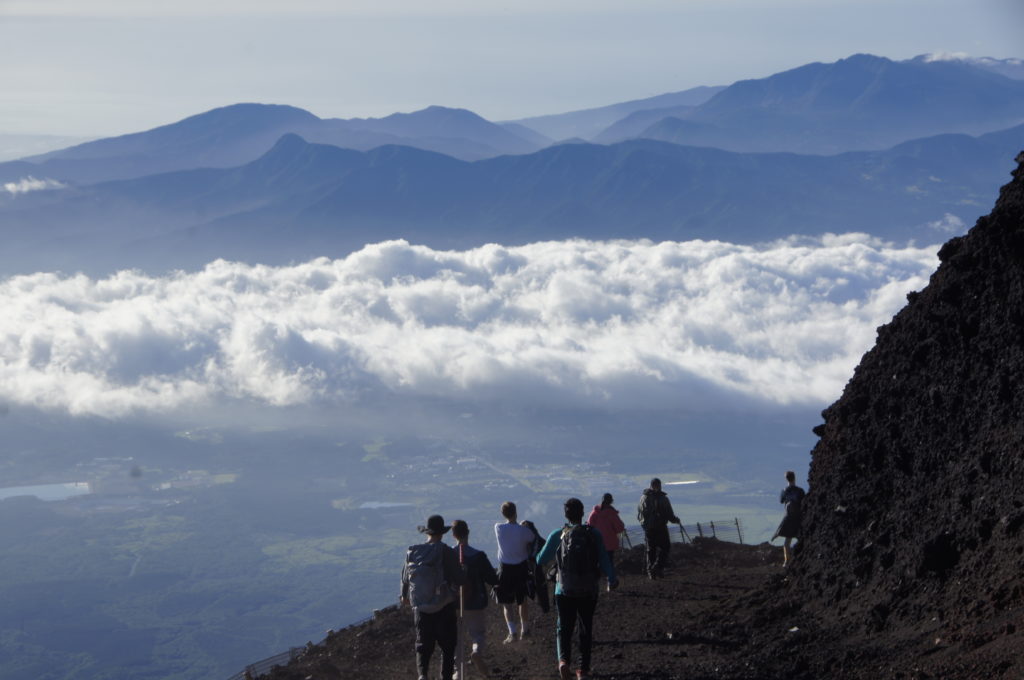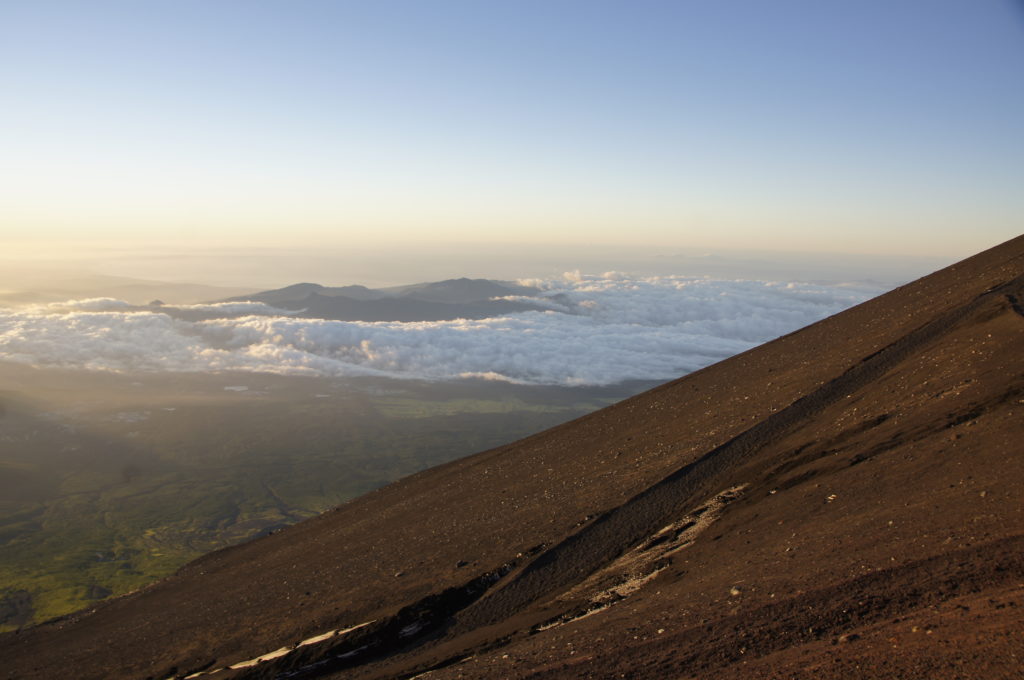 It was quite interesting how different the landscape looked in the light of day.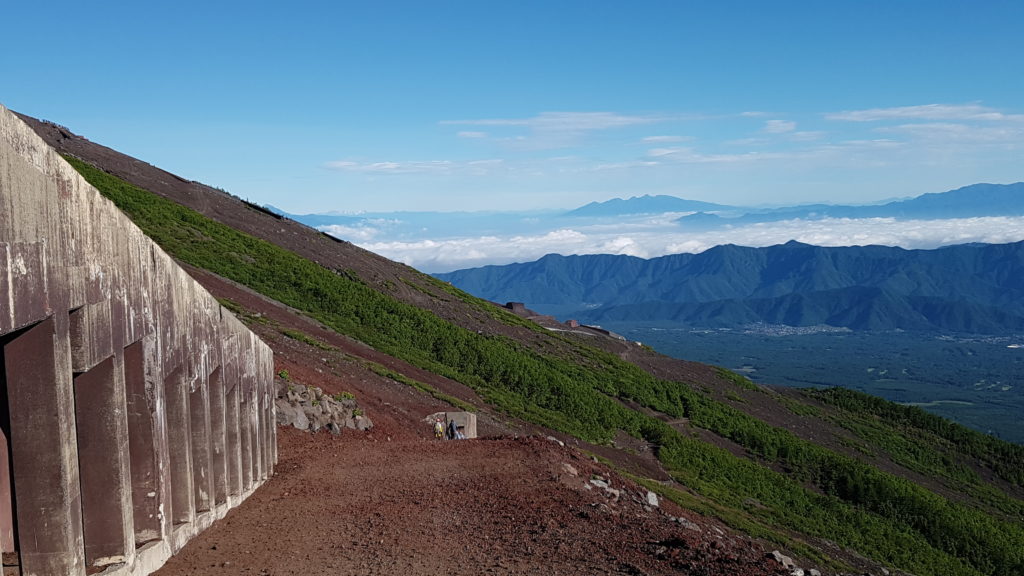 Subaru 5th Station
Subaru station was really quite this time of morning. Having been tired as hell, I slowly walked to the van, got rid of my sweaty clothes and fell into a comatose sleep in the back.
Some thoughts
My advice, giving the weather conditions are ok is to go in the first week of July as I did. The school vacations have not started then. Avoid high season like Obon Matsuri (google will give you the dates), unless you want to take pictures of kilometer long queues on a hiking trail. Tip: Overtaking is considered rude in Japanese Culture. 😉
Please check in with the rangers at the rangers' station. They speak several languages, I even spoke to one who was fluent in German as he studied there and are there to help you. They will be able to tell you how safe the current weather conditions are and are able to answer any questions you might have. It's open 24h. And while being at it, please donate the 1000 yen for the Mount Fuji preservation fund. You will get a really cool, Mount Fuji grown 'I climbed Mount Fuji' wood tag
Clothing
-Be aware that there can be a temperature difference of 20 degrees from 5th Subaru station to the peak. When I made the accent I started at 19 degrees Celsius in the evening, feeling comfortable in shorts and T-shirt until 3000 meters above sea level, where the temperature dropped to 5 degrees Celsius in the Morning.
Equipment
A headlight is a must for the night trip. There is no lights along the way other than the stations' and it can get pretty dark. Other than with a normal light you have your hands free. Mine features al kinds of gimmicks and SOS functions.
*
Hiking gear: I highly recommend hiking sticks. For me they made a big difference. They should be telescopic so you can easily stow them away when not needed.